It's frustrating when things don't go as planned, right? 
You're enjoying a movie marathon when your Samsung TV's Spectrum app suddenly stops working. Usually, troubleshooting unresponsive applications requires customer support, which is time-consuming. That is why it is critical to troubleshoot the issue yourself. 
Learn how to troubleshoot your connection issues to get back to watching your favorite television shows.
Why Is My Spectrum TV App Not Working? 
The Spectrum TV app might not be working for a variety of reasons. These includes: 
You've lost your internet connection 
You need to update your Samsung TV software or Spectrum app 
You have broken the router, or it is malfunctioning. 
Spectrum has technical issues. 
Spectrum App Not Working on Samsung TV: Solutions 
You may have encountered an unpleasant problem with your Spectrum app on Samsung TV not loading and displaying an error message like "Spectrum app is not working."
You probably can't access your cable channels, Spectrum Sportsnet app on Samsung live TV, or log in to My Account if you see this popup. However, here are some ways to fix the spectrum app on your Samsung TV when it's not working. 
1. Make Sure Your Samsung TV is Compatible with Spectrum 
Before setting up your Samsung TV, ensure that it is compatible with Spectrum.
The Spectrum app is compatible with Samsung Smart TVs from 2012 to the present that runs the Orsay or Tizen operating systems. If your new TV isn't compatible, you'll need to use a streaming stick from Roku, Google, Amazon, and Apple to access the Spectrum app and website.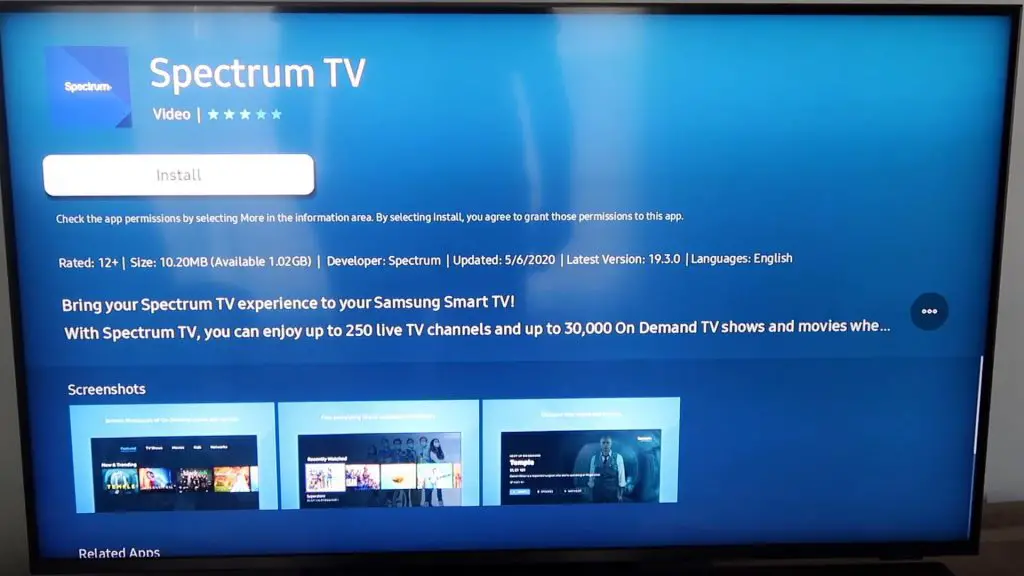 2. Power Cycle Your Samsung TV 
When your Samsung TV is low on memory or has a residual charge, you may experience some weird glitches on the Spectrum app.
Firstly, turn off your TV and unplug it from the power source for two minutes. Next, plug it back in, turn it on, and select Spectrum from the Home screen. If that doesn't work, you can unplug it for an hour before plugging it back in. 
3. Check if the Spectrum App Servers Are Down 
If you're still having trouble using Spectrum, check if the servers are down by using the My Spectrum app or your online Spectrum account. Then tap Restart if you see the status showing "Connection Issue." 
4. Reinstall the Spectrum App 
If the problem persists, you may need to reinstall the Spectrum app. Then, press the Menu button on your Samsung remote, select Settings, Apps, Spectrum, Uninstall, and click "Ok." 
After you install the app, search for Spectrum in the device's app store, and reinstall. Then check if the problem persists. 
5. Reset Samsung Smart Hub 
You can reset Samsung TV's Smart Hub to delete all your user accounts and settings. Spectrum TV app settings will reset to factory settings. After you reset your Smart Hub, you will need to reinstall the Spectrum app and sign in again. 
6. Reset Your Wi-Fi Router 
Resetting your Wi-Fi may resolve the Spectrum TV app login connectivity issue since it restores your router's factory settings. 
To reset your Wi-Fi router, unplug the power adapter from the back, wait ten seconds, and reconnect it. Your Wi-Fi connection will restart and resolve any issues caused by power outages or other problems. 
7. Check Your Internet Speed 
If your Spectrum app is not working on your Samsung TV, you can use an online speed test like Speedtest.net to determine how fast your internet is. If you are still experiencing connection problems and your internet speed is over 25mbps, run a diagnostic test to ensure everything is running smoothly. 
8. Clear Your Spectrum App Cache 
By clearing the cache, your Spectrum app may run more efficiently and take up less space on your device. To clear the Spectrum app cache, click Settings on your Samsung TV, select Storage, Other apps, Spectrum TV, then tap on Clear Caches.
9. Turn Off Your VPN 
Try turning off your VPN first if clearing the cache on your Spectrum TV didn't fix the problem. You may have trouble using Spectrum TV if you access foreign streaming services through a VPN. 
10. Update Your Samsung TV 
You need to update your Samsung TV software if you are still experiencing problems with the Spectrum app. Go to Settings, tap Support, Software Update, and then tap Update. 
11. Factory Reset Your Samsung TV 
You may need to reset your Samsung TV if you still have Spectrum problems. Your television will be reset to factory settings so you can start over. 
But how do you reset the Samsung Spectrum app? To reset your Samsung TV, select Settings, General, Reset, enter your PIN (0000 is the default) and then click OK. 
The TV will automatically restart. On the other hand, if your Samsung TV doesn't have these steps, navigate to the Settings menu, click on Support, and then select Self Diagnosis. 
12. Try Spectrum on Another Device 
If none of the above solutions work, you may want to try Spectrum TV on another device. 
If you have a laptop or tablet, try Spectrum on it. You may have an issue with your Samsung TV if the problem does not occur on another device. 
13. Spectrum App for Samsung TV Error Codes 
You may find it frustrating when the Spectrum app for Samsung TVs displays error codes. Here are some error codes and possible fixes to help you troubleshoot: 
WLI-1010. Sign-in was not successful. Recheck your username and password and try again. 
WLP-1035. Unavailable service. You selected a program unavailable at your location, so you'll need to choose another one or try again later. 
STCF-1101. If you get this error, you should contact Spectrum customer service since it's an internal error that only they can resolve. 
Samsung TV Spectrum Won't Download/Install 
If you have trouble downloading or installing Spectrum on your Samsung TV, you can try a few things. 
First, make sure you update the app. Next, restart your TV and router, if applicable. By doing this, you will be able to resolve any network issues preventing the download of the Spectrum TV app from completing successfully. 
Samsung TV Spectrum Not Showing Up/Found 
Spectrum might not appear on your Samsung TV because you haven't installed it. You can check that your TV has the Spectrum app installed by going to the Home Menu and scrolling down to Apps. 
Scroll down until you see Spectrum. If you don't see it, restart your TV, unplug it for a few minutes, and then plug it back in. 
Samsung TV Spectrum, Not Loading/Opening 
Ensure you have connected your TV to the internet by checking the wireless connection status in your TV's settings if the spectrum app is not loading or opening. You may need to clear your cache and cookies to connect to the internet. 
Samsung TV Spectrum Not Connecting 
Make sure your device is compatible with Spectrum if you're having trouble connecting your Samsung TV to Spectrum. You should also ensure that you have connected your router to the internet and that there are no problems with connectivity. 
Samsung TV Spectrum Does Not Have Sound 
If this happens, you should ensure that you have turned up the volume on your TV or sound system. Next, check to see if the mute button is on. If it is, switch it off and try again. If you have already turned up the volume, tried turning off the mute button, and still can't get it to work, you may need to reset your device. 
If resetting does not restore sound, switch to optical cables to improve the reception. 
How To Set up the Spectrum TV App on Samsung Smart TV? 
You can set up the Spectrum TV app on Samsung Smart TV by following the steps below. If you're wondering how to arrange channels on the Spectrum TV app, you can follow the settings guide after completing these steps.  
Step 1: Connect your Samsung Smart TV to the Internet and turn it on. 
Step 2: Search for the Spectrum app using the Samsung Smart Hub on your TV. 
Step 3: Press Select on your remote. 
Step 4: Key in your Spectrum username and password to register. 
Step 5: Then, sign in and enjoy using Spectrum TV. 
If you find that the Spectrum app isn't working on your Samsung smart TV, you can do a few things, as shown above. We hope one of them works for you, but if not, you can still reach out to Spectrum customer service. 
Frequently Asked Questions: 
How do I update the Spectrum app on my Samsung Smart TV?
You can update the Spectrum app by pressing the Smart Hub button. Select Featured Apps. If there is a small white arrow in a blue circle on the Spectrum app. Then, press and hold the Enter key until a submenu appears, and click Update. 

Does the Spectrum app work on Samsung Smart TV? 
Yes. Samsung Smart TVs from 2012 to present support the Spectrum app, as they have Orsay and Tizen operating systems. 

Why does the Spectrum app keep crashing? 
The Spectrum app keeps crashing because your device is too old or your internet connection is too weak to support both streaming services simultaneously. 

Can you update Samsung Smart TV to get new apps? 
Yes, you can update your Samsung Smart TV by going to the Settings menu and selecting Software Update. By doing so, you'll stay up to date with the latest software updates and apps. 

Can you update the app store on a Samsung Smart TV? 
Yes, you can update the app store on your Samsung Smart TV by selecting Settings, then Software Update. The update will begin downloading after you click Update Now.