Alexa has become a favorite home gadget for many people. Paired with a smart television, your entertainment system is easy to customize and use. But what do you do if your Alexa is not working on Samsung TV devices?
If you're struggling with this issue, we're here to help. First, read on for more information on what can cause this problem. Then, stay tuned after our guide for a brief FAQ!
Alexa Can't Turn On My Samsung TV: How to Fix
If you find your TV not responding to Alexa, there are several reasons for the issue. Here are some reasons, as well as a few common fixes.
As a note, this is not an exhaustive list! However, this list is extensive enough to have your issue likely and fixed.
1. How to Connect Alexa to SmartThings?
Samsung SmartThings is a common application when using Samsung products with other smart devices. For example, when looking for how to connect Alexa to Samsung TV, it's best to use SmartThings.
Search for the Alexa device in the SmartThings menu to pair them. You may need to manually connect Alexa through the device's settings if this doesn't work.
2. How to Turn on Samsung TV With Alexa?
With Alexa properly connected, you can use a voice command to turn your television on. Commands like "Alexa, turn on my television" are frequently programmed to help. If this doesn't work, using the SmartThings program can help you activate your devices.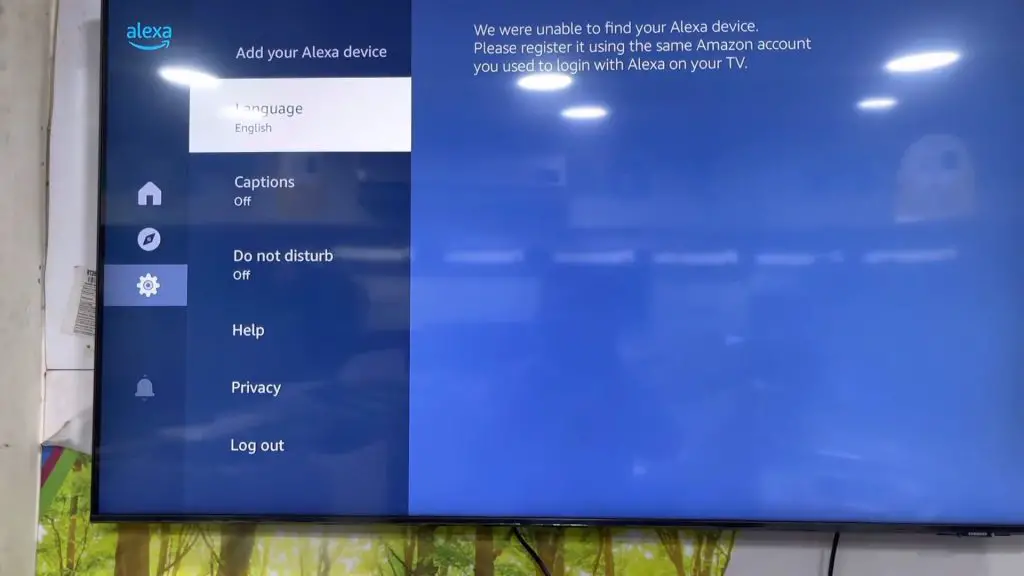 3. Is Your Samsung TV a Smart TV?
Samsung has many televisions, but not all are smart TVs. With televisions like the Samsung- TU7020, Alexa will have no issue connecting. Other models that are not smart televisions will not be compatible with smart devices such as Alexa.
4. Check if Your Devices Are on the Same Wi-Fi Network
You may have multiple Wi-Fi networks if you have more than one router. You may also live somewhere where the Wi-Fi network of neighbors is available to you.
Make sure that your devices are on the same Wi-Fi network. If not, they won't synchronize properly and cannot pair.
5. Check if Your Internet Connection Is Down
Another frequent issue is that your internet connection has gone down. If you don't have an internet connection, many features of smart devices are unavailable.
You'll need an internet connection when figuring out how to connect smart TV with Echo Dot systems. If your internet isn't available, you'll need to remedy this issue before succeeding.
6. Check Your Remove-to-Pair Pull Tab on Your Samsung TV
Are you failing to figure out how to connect Alexa to Samsung TV, Youtube, or other entertainment options? Then, you should check your Samsung TV and ensure you removed the remove-to-pair pull tab.
These tabs prevent people from pairing devices with a television without purchasing it. Remove this tab to ensure you can connect devices.
7. Is Your Amazon Alexa Device Working?
If you find Alexa not working on Samsung TVs, your device may not be functional. Continue trying to pair it with other devices. Is Alexa not working on Samsung TV remote devices either?
Should you find the issue frequently, your device could be broken. 
Look into how to set up Alexa to make sure you've used the proper settings. You may need to adjust your Amazon Alexa login or consult your Alexa app.
8. Alexa is Built-in into Your Samsung TV
Some smart televisions have Alexa already built into the app. So if you're wondering, "Why is Alexa not working on my Samsung TV?" you may be using a device unnecessarily.
Look into your television's settings to see if Alexa is built-in. You may find your TV not responding to Alexa devices if it is.
9. Alexa Commands for Your Samsung TV
There are many commands for Alexa to use with your television. First, consider using simple commands like "Pause," "Stop," "Rewind," and more while learning to use the device. Once you're comfortable, move to more advanced voice commands to change picture formats and more.
10. Check if Eco-Mode Is Enabled on Your Samsung TV
Eco-Mode is a great mode to save power and help the environment, but it can interfere with some functionalities. Consider disabling this mode to see if it remedies your issue.
11. Contact Support
If you still find your Alexa not functioning properly, contact Amazon's support. They can help remedy the issue or replace your device for you.
Samsung TV Alexa Keeps Talking
You may find Alexa continuously speaking as if responding to commands. If this is the case, consider turning down the microphone's sensitivity, so it doesn't pick up your voice as easily. Should the issue remain, it's likely a software bug that a reset could fix.
Samsung TV Alexa Not Changing Channels
Is your TV not responding to Alexa? Figuring out how to connect Alexa to Samsung TV is one thing, but what if your device doesn't respond to Alexa's commands?
If this is the case, you may not have properly connected them. Unpair them and repair the devices to try and smooth out this issue.
The Frame TV Not Recognized by Alexa or Google Home
Check the Wi-Fi networks of all involved devices to ensure they're all on the same network. Otherwise, unpair and repair the devices. You should also reset everything involved to remove any software bugs or glitches.
Samsung TV Only Turn Off, Not Back on, With Alexa
Sometimes you may find that Alexa turns Samsung TV off but not on. This is most likely an internet or connection issue. It may also arise from the power saving feature your Samsung TV can activate, so disable this feature.
Alexa Not Working on Samsung TV Remote
If you find your Alexa device not working with your remote, check the battery of both devices. Either of them being out of battery could cause them to fail to connect.
How Do I Control My Smart TV With Alexa?
Using voice commands is the primary way to control your smart TV with Alexa. However, you can also use the SmartThings application to issue any commands.
Why Does Alexa Say My TV Is Unresponsive?
You may wonder, "Why is Alexa not working on my smart TV?" The most common cause is a failure to connect.
If Alexa is saying your TV is unresponsive, you may have a pairing issue. They may also suffer issues from a poor internet connection. Check your internet and pair the devices again to see if this fixes the issue.
Why Would Alexa Stop Working?
If your Alexa device has been damaged, it could stop it from working. You may also have internet issues or a low battery. Any of these problems could cause Alexa to stop working.
If you find Alexa not working on Samsung TV entertainment systems, check your internet and the devices first. Should they pair correctly, you may have a problem with your settings. If the issue continues, consider contacting Amazon customer support to remedy the issue.
For more information on home technology, be sure to browse our extensive site! If you still have questions, enjoy our brief FAQ section.
Frequently Asked Questions
How do I get Alexa to work on my Samsung Smart TV?
You'll need to ensure that both devices are active and on the same Wi-Fi network. Once you have ensured they're compatible, you can connect the two devices. Many Samsung TVs already have Alexa built into them. If this is the case, you won't need an external system like an Echo Dot. You also should use the SmartThings app. Doing so will provide more functionality to your smart devices.

Why won't Alexa turn on my TV anymore?
There's a chance that your Alexa's settings may have changed. You also may have activated the Eco-Mode feature on your Samsung TV. The Eco-Mode feature can cause issues with connecting and other functionality. Ensure that your devices are still paired and active. A factory reset may also help your device connect again.

Why won't my Samsung TV connect to my Echo Dot?
Make sure that your devices are compatible with connecting. You should also ensure that your Samsung TV doesn't have Alexa built-in. If it does, you can use Alexa without an Echo Dot and likely will struggle to pair your Dot.

Why is Alexa not connecting?
The most common reason is an issue with the internet. First, ensure that your devices are on the same Wi-Fi network. If not, ensure you still have an internet connection to use the devices with.

Why has my Alexa stopped connecting?
Your device may have become damaged. You may need to contact Amazon's customer support and see if your device is replaceable. If not, you may still need to purchase a second Alexa device to use the system.